United Kingdom    Elfman, Sollima, Diana Vishneva: On the Edge, Sergei Danilian, London Coliseum, London, 14.4.2015 (J.O'D)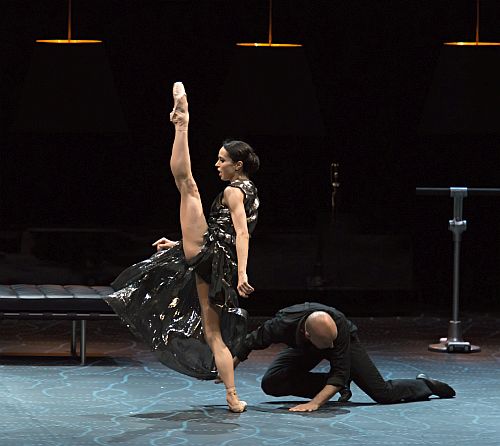 Switch
Dancers: Diana Vishneva, Gaëtan Morlotti, Bernice Coppieters
Choreography:Jean-Christophe Maillot
Music: Danny Elfman (from Serenada Schizophrana, End Tag, Blue Strings, A Brass Thing, Improv for Alto Sax, from Rummy (Not Edited), Drone Wild stereo and Theme 1.4 stereo)
Sets: Alain Lagarde
Costumes: Jean-Christophe Maillot, Jean-Michel Lainé
Lighting Design: Samuel Thery
Diana Vishneva's costume: Karl Lagerfeld
 

Woman in a Room
Dancer:  Diana Vishneva
Choreography and sets: Carolyn Carlson
Music: Giovanni Sollima (Aquilarco Aria, Terra Aria, Aquilarco Spinning Top Prelude, We Were Trees: The Architect, Spasimo, Il Tracciato di Marta, We Were Trees: Iguil) and René Aubry (Plaisirs d'amour, Lungomare)
Music Editor: Nicolas de Zorzi
Costumes: Chrystel Zingiro
Photos and Video: Maxime Ruiz
Assistant choreographers: Sara Orselli, Henri Mayet
It wasn't applause. The response by some sections of the audience to Diana Vishneva as she stepped down from the stage at the end of the evening and threw lemons to the people in the front rows. It was an adulatory slow-hand-clap that had less to do with the two works just performed than with the dancer. As the woman beside me explained, 'They're clapping her past career.'
The works just performed had been commissioned by the 38 year-old Mariinsky Ballet principal herself. Switch, by Jean-Christophe Maillot (Artistic Director of Les Ballets de Monte Carlo) featured two other dancers and some rather heavy-handed symbolism involving pointe shoes and the incompatibility of art and life. Woman in a Room by Carolyn Carlson, was a solo performed in bare feet or on very high heels about 'solitude and introspection'. The really compelling thing about both was Diana Vishneva: her arms, her elongated line, her almost liquid presence on the stage.
Dressed in a costume by Karl Lagerfeld, at the start of Switch the dancer brings to mind an actress in 1940s Hollywood. Like certain films of Bette Davis or Joan Crawford, the piece is a 'vehicle' for her talent. And it is a very theatrical, even cinematic, work. The set is elaborate, the music (by Danny Elfman) more soundtrack than score. The other characters, a man and a woman, would not be out of place in a film noir. They move solicitously around Vishneva, at first, as if she really were a frail and failing star. But their motives are unexplained.
In the second half of the piece Vishneva removes the top and skirt of her costume to dance in the leotard she wears underneath. While the man and woman make love on a studio couch, Vishneva drags a portable barre behind her around the stage, uses it to adopt a 'Crucifixion' pose, then takes off her pointe shoes and ties them to it.
Woman in a Room is less overwrought. The 'room' contains a large table of light-coloured wood and a stool. Through the window we can see a tree, its branches waving slightly. Below the window there is a basket of oranges. With her hair in a ponytail, Vishneva moves through this second 'vehicle' as through the different stages of a woman's remembered life. Her body ('the Kirov body', as the woman beside me had described it in the interval) a constantly surprising instrument. She can gyrate her spine, for example, while keeping her hips and legs immobile in a way that seems to defy the limits of the human anatomy.
It is in this piece that the lemons are first introduced. Vishneva takes one out of a drawer in the table, and cuts it in half. She holds both halves in front of her eyes and in front of her chest as she dances in the high-heeled shoes. Like the shoes, they are a symbol of female sexuality. The piece ends with a cornucopia of lemons being taken out of the drawer. Vishneva throws some on the stage floor. Others she puts on a tray.
There is no irony about the way she descends to distribute these lemons among the audience, none at all about the slow-hand-clapping that accompanies her. Before throwing them, she inhales their fragrance. People hold up their hands eagerly. In an overlapping of art and life, the lemons are now Vishneva herself.
 John O'Dwyer