United Kingdom Various, LIVE from London Summer 2021 [4] – Au Naturel: I Fagiolini / Robert Hollingworth (director) with VOCES8 and Rebecca Lea (speaker). Livestreamed from VOCES8 Centre, London, 14.8.2021. (CC)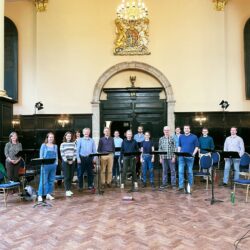 Spring
Monteverdi – O primavera gioventù dell'anno
Britten – Lenten is Come
Howells – The Summer is Coming
Summer
Anon – Sumer is icumen in
Schütz – Die Himmel erzählen
Janequin – La Chasse
Autumn
Rheinberger – Abendlied
Joanna Marsh – now i lay (world premiere, with VOCES8)
Leo Ferré – Chanson d'automne
Winter
Ed Hughes – Sun, new moon and women shouting
Delivering a programme inspired by Pieter Brueghel the Younger's The Four Seasons (1624), I Fagiolini and its charismatic director Robert Hollingworth explored another world in songs both holy and ribald. This is I Fagiolini's fourth time with the LIVE from London Festival; the group never disappoints.
Human ages and character types based on the Greek theory of the humours and also the elements (Spring: air/blood/sanguine; Summer: fire/yellow bile/choleric temperament; Autumn: Earth black bile/melancholic temperament; Winter: water, phlegm, phlegmatic temperament) brought together a multitude of Weltanschauungen in a mere 90 minutes, a snapshot of how we humans saw ourselves in Northern Europe 400 years ago.
To set the modus operandi, Spring was prefaced by a spoken analysis of the painting by Professor Martin Kemp and read by Rebecca Lea, a format that was repeated for each season, including zooming in on details. That tenor entry that opens the Monteverdi O primavera gioventù dell'anno is a daring way to open any concert; the piece is almost experimental, in fact, in its play with textures, the sudden concentration on the lower registers, are startling to this day.
Britten's Lenten is Come almost popped with its agile writing. I Fagiolini lightened their texture spectacularly (it could have been a different choir, almost). Spectacularly characterful, and delivered by five voices, it stood in high contrast to Herbert Howell's The Summer is Coming (six singers) with its plaintive, plangent lines. The score positively glows. It requires sopranos who can soar (as these, indeed did) as well as a complete sense of linear awareness (as we, also, had here); it also requires a real depth of interpretative power. A remarkable piece, beautifully presented.
Balancing Howells's The Summer is Coming is the famous anonymous round Sumer is icumen in, which led into Heinrich Schütz's Die Himmel erzählen. The bracing pace for the famous round brought all of the music's radiance to the fore (and with a perfectly judged 'fade' at the end). One really felt the change to the German language with its harder consonants in the glorious Schütz (text Psalm 19).
'As Brueghelesque a piece of music that I know' was Hollingworth's description of Clément Janequin's La Chasse, a description of a hunt for a stag. Hollingworth's description of the story in his introduction is, frankly, hilarious. There are sound effects written into the score, 'tronc' (hunting horn), plus dogs and horses, amongst others. Four male voices delivered this virtuoso bonbon, acted out with some wonderful comedic gestures. A barrage of woofing (in the French equivalent) leads to a magnificent chordal conclusion. This is just the type of music I Fagiolini excels at.
Rheinberger's Abendlied has appeared before in the LIVE from London series (both The Gesualdo Six and VOCES8 themselves) – it seems to be something of a favourite. It was glorious here in its crepuscular, autumnal glow. It is a bit of a shock to see so many people in shot, given that his was a performance by I Fagiolini and VOCES8.
Joanna Marsh wrote a piece especially for this concert. A film was also run of Barney in conversation with the composer. Based on an e cummings poem in the tradition of a lullaby ('now I lay me down to dream') Marsh makes the most of the pacing of the words, giving it a lovely sense of flow, and how glorious the final dissonance. A shift to black-and-white filming brought forth Verlaine set to jazz in Leo Ferré's famous Chanson d'automne, sung by Hollingworth as the main soloist, with beautifully judged countermelodies.
Then Winter sets in – decrepitude, death – but with its happy side shown in the Brueghel painting. But there is a balancing element: a man has fallen through the ice (don't enjoy yourself too much, seems to be the message). Only one piece for Winter: Ed Hughes's remarkable setting of Tom Lowenstein in Sun, new moon and women shouting, a I Fagiolini commission that centres on the traditions of the Inuit community, Tikigaq, and its legends. This one work for Winter is remarkable (and makes equally remarkable demands on its executants, not least the sopranos). The exciting, vibrant first parts cede to 'The Spirit of the Moon and Women' and the story of Raven Man and Alinnaq's healing. A long, single piece to end this fascinating, stimulating tour of the seasons.
A disc on Coro of John Willbye (1574-1638) is in the offing from I Fagiolini; and is awaited with bated breath. They always seem to deliver …
Colin Clarke