Germany Puccini, Turandot: Soloists, Staatsopern Chor Berlin (chorus master: Martin Wright), Staatskapelle Berlin / Zubin Mehta (conductor). Filmed (directed by Tiziano Mancini) on 18.6.2022 at Staatsoper Unter den Linden but available until 13.1.2023 on ARTE Concert. (JPr)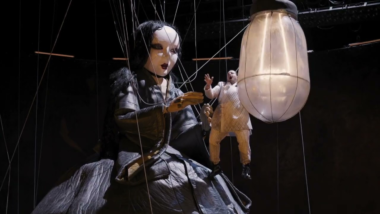 Production –
Director and Set design – Philipp Stölzl
Assistant director – Philipp M. Krenn
Costumes – Ursula Kudrna
Lighting – Philipp Stölzl and Irene Selka
Choreography – Christopher Tölle
Dramaturgy – Jana Beckmann
Cast:
Turandot – Elena Pankratova
Altoum – Siegfried Jerusalem
Timur – René Pape
Calaf – Yusif Eyvazov
Liù – Aida Garifullina
Ping – Gyula Orendt
Pang – Andrés Moreno García
Pong – Siyabonga Maqungo
Mandarin – David Oštrek
Puccini was attracted to Carlo Gozzi's 1762 play because an exotic setting had already proved a success for him with Madama Butterfly (review click here) and the plot was less realistic than some of his others. He was fascinated by Turandot, an icily cruel princess, who is very different to his other principal female characters most of whom had been sweet and obedient creations doomed to suffer and sometimes die for love. The composer was particularly taken by 'The Unknown Prince' Calaf's 'journey' and how he ends the opera. In addition, he demanded from his librettists, Giuseppe Adami and Renato Simoni, a wide variety of characters: Ping, Pang and Pong provide a certain comic – albeit heavily ironic – relief and the doomed slave girl Liù (not in the original Gozzi story) is there to counterbalance the princess's character. Finally there are the possible autobiographical elements: is Calaf a picture of Puccini himself, is Turandot his wife Elvira and is Liù, the tragic Doria Manfredi of the infamous scandal?
Turandot proved troublesome and after five years the orchestration was almost complete with only the final duet (after Liù's death and the scene in which Turandot is transformed by Calaf's kiss into a warm-hearted human being capable of love) missing early in 1924. Early in November that year Puccini went to Brussels to be treated for a throat tumour and died later that month following an unsuccessful operation. So, Turandot shares its fate with a number of other twentieth-century operas – such as Busoni's Doktor Faust, Schoenberg's Moses und Aron and Alban Berg's Lulu – all left unfinished when their composers died.
Puccini's music for Turandot is in many respects his most advanced and most modern in style. Of course, Turandot is the product of early-twentieth century Orientalism – the fascination of the West with the 'exotic' cultures of the East – and in order to create a more 'realistic' Chinese atmosphere, Puccini read many books on the culture and ceremonies of China. He also sought out real Chinese music to imitate. Puccini only used folk songs for the music of Ping, Pang, and Pong and so theirs is the only light music in the entire opera whilst overall he used at least eight authentic Chinese tunes. The pentatonic scale – the scale you get when you play just the black keys on the piano – creates an 'eastern' sound and 'oriental' sounding harmonies are produced by juxtaposing major and minor together. There are a lot of percussion effects, and the composer commissioned a set of thirteen gongs especially for his new opera.
Obviously, the Orientalism and female humiliation – amongst other issues in Turandot – has increasingly created problems for those staging it and whether Stölzl meets these head-on or just ignores them I am not sure. We hear from the three minsters how 'Turandot does not exist!' and that may explain the huge string puppet version of Turandot which dominates the stage to the exclusion of much else. The chorus are confined to the fringes of the stage and are in greyish – slightly militaristic – boiler suits and have slick black hair and are rather like caricatures. Overseeing the surging crowd at the start are guards in shiny red with batons who treat them brutally. (As I write this there is this headline in a British newspaper 'Why China's demented zero-Covid obsession is no longer about health, it's about power and mass surveillance', and this will give you a little idea what Stölzl shows on the Berlin stage.) Calaf, Timur and Liù are in white with, for me, a hint of the Terracotta warriors about their costumes; Ping, Pang, Pong are also in white with red bowler hats and look as if they have stepped out of a Chinese staging of Waiting for Godot; and finally, Emperor Altoum is also in military uniform and is saluted as the supreme leader. The lighting is mostly gloomy though there are some intriguing colour and abstract patterns from Stölzl and Irene Selka for the Act II scene as the ministers reflect on their lot in life atop a pile of skulls.
The puppet Turandot dominates the first act though her doll like face is not revealed for some while. First, we see its enormous skirt lift and with lots of smoke, the executioner is there sharpening his knife. Stölzl does not shy away from the brutality of Turandot's regime and the treatment and death of the Prince of Persia – who is thrown about on some stairs before having their throat torn out – is quite graphic. Later the dead suitors who have failed Turandot's riddles cross the stage like zombies. Calaf seems more interested in fantasy rather than reality and proclaims 'I want victory! I want love!' which gets him a slap from Liù. A huge bulb comes down which Calaf rises in the air to 'strike' and it lights up as he gets entangled with the puppet.
In the second act, there is the robotic movement of the crowd familiar from mass celebrations in various dictatorships. The emperor rises up from the puppet's skirt which opens and reveals its framework and gold lining as the 'real' Turandot appears in her own voluminous gown. A large golden disc is shown at the back of the stage as Calaf confronts Turandot. The princess takes off her wig and the puppet – which has gained some legs – loses its own hair as doves and a heart are shown in its chest before the face drops to reveal a skull. Calaf is not interested in anything other than the chimera.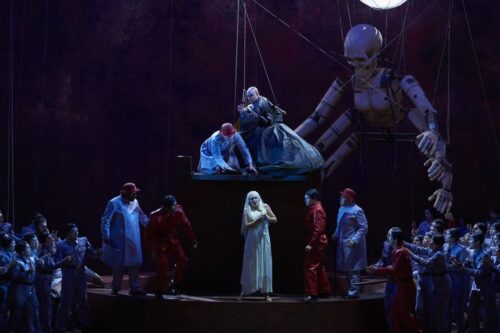 In the final act, the puppet is no more than the top half of a skeleton with six legs and the big bulb is back. Anyone caught sleeping is violently dispatched and thrown down into a cistern (originally the podium for the puppet). It is from here that Turandot will rise up at the top of the stairs. Ping, Pang, Pong with their pliers, hooks and a knife to torture Liù confirm how they are much more Turandot's enforcers than they are usually portrayed as. Liù stabs herself and the people recognise her sacrifice and she is carried off. The puppet has lost its skull while Calaf continues to address the doll's face from the earlier acts. Calaf refers to Turandot as the 'Princess of death!' and – possibly acknowledging all the innocent lives she has extinguished – the ministers hand her some poison which she drinks. Calaf and Turandot finally embrace and kiss as she dies with the bulb flickering on and off.
Just what Stölzl wants us to take away from this I am not sure but there are certainly a number of intriguing tableaux. Undoubtedly it was – overall – a great success musically (at least as heard through my loudspeakers). A vital and dramatic chorus is essential to Turandot and the Staatsopern Chor Berlin were committed to their part in Stölzl's Konzept and mightily impressive. After his recent travails it was good to see Zubin Mehta looking so comparatively well and he brilliantly crafted the thrilling interpretation of Puccini's colourful score splendidly played by the Staatskapelle Berlin.
There were superb vignettes from Gyula Orendt, Andrés Moreno García and Siyabonga Maqungo as Ping, Pang and Pong. David Oštrek was a stentorian Mandarin. Siegfried Jerusalem did little for his legacy by his appearance here – now in his 80s – as Altoum and sounding frailer than his character should. Also not at his best was René Pape's gravelly Timur and his lengthy career might be catching up with him (most of the time he seemed to forget he was supposed to be blind). Made to stand out from the crowd was Aida Garifullina's Liù and anybody looking less like a slave cannot be imagined. Her Liù was uncommonly strong; 'Signore, ascolta' and 'Tu che di gel sei cinto' were movingly acted and sung with great feeling to draw the audience into her character's plight.
Yusif Eyvazov gave a relatively subdued, unshowy performance, while convincingly revealing himself as something of a deluded, emotionless 'bastard', willing to let Liù die so that he can achieve his goal of conquering Turandot. Eyvazov's robust tenor voice has a baritonal middle and totally secure top and the highlight of his singing was an assuredly ardent – if more reflective than some – 'Nessun dorma'.
Elena Pankratova was a stately Turandot, but she brought across her character's cruelty, petulance, fear and, just possibly, burgeoning humanity when she knew she was dying, very well indeed. The thing that mattered most was her singing and her vibrant, steely voice was musically accurate and wobble-free. Every nuance of her words mattered and all her pronouncements – 'In questa reggia' included – were offered with imperious effect.
Jim Pritchard